The organizers of Green Drinks (GD) Suzhou are proud to announce that Green Drinks events are finally back in Suzhou after a gap of five years! They all believe that change begins with awareness.
Join them and various community members at the official GD Suzhou launch event, and become a part of the driving force for sustainable change in Suzhou! 
---
The event will begin with introductions by all the ambassadors, and an informal discussion session for everyone to get to know each other. Remember, interest and passion has united us all together!
Screening of Before the Flood, a 2016 documentary, will follow the introductions. The documentary presents a riveting account of the dramatic changes now occurring around the world due to climate change, as well as the actions we as individuals and as a society can take to prevent catastrophic disruption of life on our planet.
"Climate change is the single greatest threat to a sustainable future but, at the same time, addressing the climate challenge presents a golden opportunity to promote prosperity, security and a brighter future for all." 

--

BAN KI-MOON, Former Secretary General, United Nations
The film is entirely in English and 96 minutes in length.
There will be seating space for about 35 people, although additional standing space may be available.
Please register by sending us an email your name and phone number to secure a seat!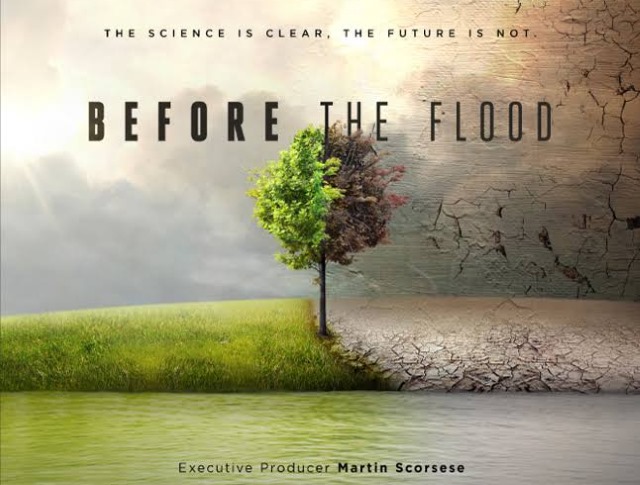 Does humanity have the ability to reverse what may be the most catastrophic problem mankind has ever faced?
Are we at the tipping point?
If you could know the truth about the threat of climate change — would you want to know? Before the Flood, directed by Academy Awards Director Fisher Stevens and presented by National Geographic, features Leonardo DiCaprio on a journey as a United Nations Messenger of Peace, traveling to five continents and the Arctic to witness climate change firsthand. Through the film, a message that they want to deliver to audiences is being together, we can help ourselves to save the earth.
Learn more at about the film at the film's official website https://www.beforetheflood.com